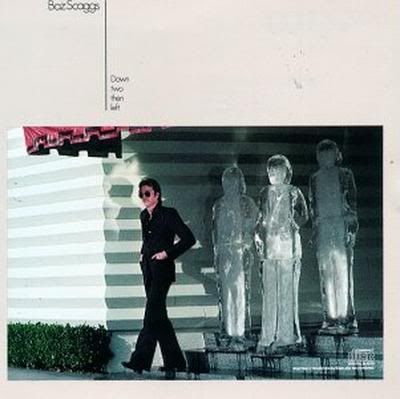 Boz Scaggs - Down Two Then Left
Label: Columbia
Release Date: Nov 1977
Rating: 3 Stars
Boz Scaggs is a little like sex and show business. When he's good, he's very good, and when he's bad, he's not that bad. Down Two Then Left apparently represents Scaggs' cooling-off period, a hiatus between the red-hot, blue-eyed soul of Silk Degrees and whatever the Eighties hold in store. The new songs, slick and mesmerizingly banal, would seem to confirm the theory that one can often judge a record by its jacket.
For instance, the grayish and shadowy cover photo of Scaggs, which makes him look vague rather than mysterious, suggests detachment: Boz in chiaroscuro, sporting stylish black shades, hands held casually in pockets, metamorphosing from a recognizably warm human being into a marketably cool image dealt out like so many clues to an abstract jigsaw puzzle. The ice sculptures that grace the photo seem like mocking, deliberate clones of Scaggs and augur the bloodless performances that characterize all of side one, including the single, "Hard Times."
When side two opens with a song that deals with image, one begins to fear that the gradual refinement of Scaggs' music is flirting dangerously with sterility. "Hollywood," a now-tired metaphor for things unreal, is uncannily close in concept to Steely Dan's "Peg," but neither as provocative nor as well wrought. "1993" and the ballad "Tomorrow Never Came" are even less memorable. "Gimme the Goods"—part disco, part reggae: a real control-and-frenzy piece—is a considerable improvement. Though it can't quite match "Lowdown," "Lido" or "Georgia," it has what few other songs here have: emotion, tension and Scaggs wailing as if he still cared about touching his audience.
Indeed, even at his most ghoulishly robotlike worst, Boz Scaggs still manages a good deal of vocal and lyrical charm. He's wonderfully eccentric, if not profound. Sadly drawn to the disco format like moth to flame, the artist recoups some respect through his distinctive, stuck-in-a-sneeze vocals, and much of the LP contains some beguiling dance fare with an occasionally catchy substructure: a guitar solo, an accordion riff, some persuasive harmonies. If Scaggs is often buried under the weight of a too-heavy rhythm section, he is generally rescued by Michael Omartian's confident handling of the strings and horns. Too many numbers, though, wind themselves up only to walk into walls; "Then She Walked Away" is a good example.
Down Two then Left is not the definitive Boz Scaggs album because image-mongering can never replace inventive music, but if there's any room in the Eighties for sweet soul sounds, Scaggs will undoubtedly garner a huge chunk of the action. Mature and classy, stylishly isolated but never alienated, Scaggs has come a long way from his beginnings. Then he wore little to distinguish himself but a forthright smile. Now we're lucky to get a glimpse of his eyes.
- Susin Shapiro / Rolling Stone (RS 259) / Feb 23, 1978