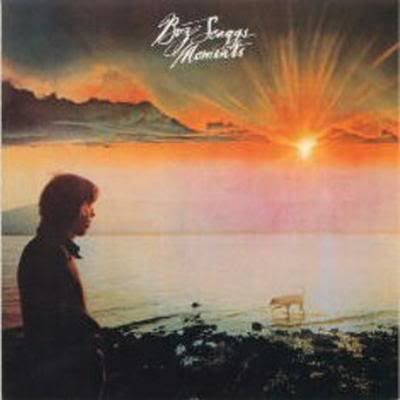 Boz Scaggs - Moments
In case you had forgotten, Boz Scaggs is the guy who used to play lead guitar with the Steve Miller Band. He left Miller to go out on his own, put out an excellent album for Atlantic a couple years back, switched labels over to Columbia and spent the time in between gigging in Bay Area blues bars, all the while preparing to pull Moments from his sleeve. What made Boz' first album so remarkable was that it sounded elaborately arranged and produced while actually being almost entirely spontaneous. Moments, on the other hand is elaborately arranged and produced, but the result is a warm, funky spontaneity, somewhat reminiscent of Van Morrison, but, I think, more accessible. On top of that, Moments is one of the most transcendental albums to come out of rock in some time.
Transcendental? Well, East Indians don't have the market cornered, you know. There's a lot of American popular music that falls into that bag in my book: the Original Carter Family, Jimmie Rodgers, certainly the legendary country blues singers like Robert Johnson, Blind Willie McTell and Charlie Patton. There's something elusive about those artists, and I bet if you listened to them a thousand times you couldn't say you had really heard them. I sometimes can't even imagine that those folks ever even existed in the flesh.
Rock and roll has had its share of this kind of music Bonnie Mack's original recordings seldom fail to send me up a couple bardos, and George Harrison's "While My Guitar Gently Weeps" will sometimes do the trick. So will some of Van Morrison. Bob Dylan, and (in his own way) Ringo Starr. But not one has been quite so good as Boz Seaggs' Moments at giving a good kick in the spiritual ass.
"We Been Away," for example, a tragile heartbreaker it there ever was one, has the line, "We grew tired of the water We grew sleepy from the heat of the day You broke your promises and said that we'd have fun And all the rest sent me here to say We been away" The Rita Coolidge Ladies Vocal Ensemble does some ghostly warbles. John McFee chimes his steel guitar, and my soul feels as though it's been patted on the back Even the rockers, like "Hollywood Blues" are kind of sadly in structive "You can be anything you wanna be So why you wanna be someone else?"
Boz and the accomplished friends that back him up cover a lot of ground on Moments country & western on "Alone, Alone" (featuring Boz' first-rate James Stewart imitation), cool cocktail jazz on "Downright Women," and the Beach Boyishly buoyant "Near You" As one might expect from Boz, there's some blues and uptown R&B on "We Were Always Sweethearts," and a song written by the scourge of early Mother Earth, R.P.St John, "I Will Forever Sing (The Blues)" that redeems its author meely. "Can I Make It Last (Or Will It Just Be Over)," an instrumental, captures the feeling of West Coast sunrises (or sunsets) just as Bob Dylan's "Wigwam" did for sunrises (or sunsets) in the Catskills.
Just so you'll know a good thing when you see it, there's a nifty photo on the jacket that quite accurately reflects the music to be lound inside: Boz is looking out at the sunrise (or sunset) on the beach, old Sol peeping from behind a legendary bank of clouds, a moment that occurs only twice a day, at most. As a matter of fact. Boz' entire band is shown with the sunlight shining down on them. and that's one picture worth a lot of words. At any rate, since Moments, it is now my him belief that when I die and go to heaven. floating on a cloud somewhere between Jimmie Rodgers and Mississippi John Hurt will be Boz Seaggs, singing the blues.